Careers: Automotive Engineering
Autonomous Vehicles | HEV and Electric Vehicles | Autonomous Vehicles | Vehicle Electronics
The auto industry needs electrical and computer engineers in ever increasing numbers to deal with the amount of electronics in the modern car. These engineers deal with the electronics, controls, safety systems, infotainment systems, and vehicle-to-vehicle communication.
ECE-trained students will also help design hybrid and electric vehicles and autonomous vehicles. Of particular importance to these electric vehicles is the power control system. An increasing number of plug-in electric vehicles also means an increasing load on the electric grid. Autonomous vehicles will require more sensitive and compact sensors, and fast, reliable wireless communications between cars and the infrastructure around them.
Related Undergraduate Courses
Power Electronics
Electric Machinery and Drives
Power System Design and Operation
Grid Integration of Alternative Energy Sources
Digital Integrated Circuits
Intro to Semiconductor Devices
VLSI Design I
Embedded Systems
Computer Architecture
Get some real-life experience
Students who participate in an interdisciplinary student team often find a new home and new life-long friends. They also get invaluable experience that will get the attention of employers.
Here are some student teams that revolve around some kind of vehicle. They all need you!
Baja Racing
Baja racing is a student-run build team that builds a rugged, durable, high-performance race car that mimics the style of the cars that race in the BAJA 500 race in Baja California.
Michigan Electric Racing (MER)
MER designs, builds, tests, and finances their own high-performance, full-electric Formula-style race car.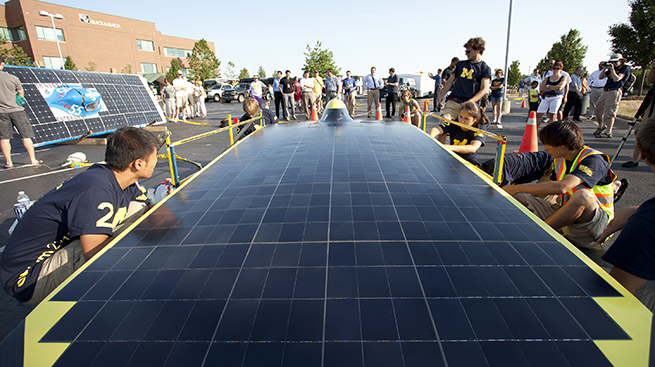 Solar Car Team
Since 1989, the U-M Solar Car Team has been designing, building, and racing America's best solar vehicles. With 9 National Championships, 6 Top-3 World finishes, and 1 International Championship, they are America's #1 solar car team.
Supermileage Team
The super mileage team designs a high-efficiency car, which they race in the Shell Eco-Marathon, a competition to build the car that consumes the least gasoline.