As a student, you have over 1,000 registered student teams and organizations to choose from. Below are common clubs that ECE students join. If you don't find what you're looking for, check out MaizePages for more clubs or create your own!
ECE Groups and Clubs
ECE Graduate Student Council (ECE GSC)
The mission of the ECE GSC is to serve the ECE graduate student body academically, professionally, and socially.
Eta Kappa Nu (HKN)
Honor Society for Electrical and Computer Engineers and hosts a variety of outreach, professional, and social events.
Girls in Electrical Engineering and Computer Science (GEECS)
GEECS is a student organization that encourages the professional, academic, and social development of individuals who identify as women in technology.
IEEE
The student branch for IEEE, the world's largest organization for technical professionals, at the University of Michigan – Ann Arbor, that helps undergraduate and graduate students connect with industry professionals, faculty members, and students.
The Optics Society at the University of Michigan (OSUM)
Promotes the discipline of Optical Science and Engineering through the organized effort of students and faculty, disseminate knowledge of the field of Optics and Photonics, and to further the professional development of the students.
Women in Electrical and Computer Engineering (WECE)
WECE seeks to to foster community among women and other gender minorities in ECE at U-M. They provide professional and personal development to assist in the recruitment and retention of gender minorities in ECE industries and academia.
CoE and U-M Groups and Clubs
Amateur Radio Club
Provides students – as well as faculty, staff, and alumni – opportunities to familiarize themselves with the concepts, techniques, and applications of practical "ham" radio communications.
ArborHacks
Students working to bring high school and college students together to promote the learning of computer science while facilitating hackathons, competitions, and workshops geared towards inclusion regardless of age or experience.
Code-M
Students interested in computer science and computer engineering.
GRID Alternatives Students for Sustainable Energy
Serves as an energy policy club for undergraduates on the University of Michigan campus, originally created by the non-profit organization GRID Alternatives This chapter organizes Solar Spring Break.
Korean EECS Graduate Student Association (KEECS)
The purpose of the KEECS is to help Korean students overcome cultural difference and adjust their life in Ann Arbor and to encourage their social activities within and outside of the department.
Michigan Hackers
Programmers who like to build and break technology.
Michigan Student Artificial Intelligence Laboratory (MSAIL)
MSAIL is a student organization for discussion of artificial intelligence and machine learning.
Project Music
Project Music is a group that designs and builds experimental musical instruments.
Epeians Engineering Leadership Honor Society
The Epeians Engineering Leadership Honor Society serves to honor current student leaders and to foster leadership in CoE students.
Graduates Out in Science, Technology, Engineering and Mathematics (GO STEM)
Through organizing, mentorship, and networking, their mission is to provide a space for LGBTQ+ graduate students and post-doctoral researchers at the University of Michigan to connect, share experiences, and learn from one another.
Graduate Society of Black Engineers and Scientists
GSBES serves as an academic and social network for Black graduate students within the University of Michigan's STEM community.
MPowered
Provides a platform for student entrepreneurship.
National Society of Black Engineers (NSBE) – Michigan Chapter
NSBE strives to increase the number of culturally responsible Black engineers who excel academically, succeed professionally, and positively impact the community.
Out in Science, Technology, Engineering and Mathematics (oSTEM)
The largest LGBTQ+ organization at U-M and one of the largest oSTEM chapters in the country, oSTEM provides professional development and social support for undergraduate and graduate LGBTQ students through networking opportunities, mentorship programs and social activities.
Society of Hispanic Professional Engineers – Michigan Chapter
SHPE has continued to show support for the Hispanic community by providing resources to assist members during their college career.
Society of Women Engineers – Student Section at Michigan
SWE is an international, non-profit educational service organization dedicated to supporting women in engineering careers or studies as well as encouraging young women to consider engineering as a career path.
Tau Beta Pi (TBP)
TBP is the only engineering honor society representing the entire engineering profession. It is the nation's second-oldest honor society, founded at Lehigh University in 1885.
University of Michigan Engineering Student Government (ESG)
ESG is the student-run government for engineers at the University of Michigan.
Wolverine Soft
This is a club for anyone interested in Video Game Development and includes artists, musicians, coders, designers, and producers.
Other Student Organizations
Competitive Teams with EECS Students
MRacing
MRacing is the University of Michigan's Formula SAE team, founded in 1986. With over 30 years of experience, the engineering design team is continually pushing the envelope of vehicle design.
Michigan Baja Racing
The Michigan Baja Race team designs and manufactures an entirely new off-road race vehicle from the ground up.
Michigan Data Science Team (MDST)
MDST is a competitive collegiate data science team that competes against professional and amateur data scientists from around the world in online prediction challenges.
Michigan Autonomous Aerial Vehicles (MAAV)
MAAV members engage in designing, manufacturing, programming, and testing every aspect of a small, autonomous drone.
Michigan Autonomous Robotic Vehicle Team (UMARV)
UMARV is an engineering design team building a fully autonomous vehicle for the Intelligent Ground Vehicle Competition. They hope to scale their project to build a compact, street legal, federally-compliant, autonomous car capable of transporting two passengers.
M-Fly
M-Fly designs and builds three aircraft to compete in the SAE Aero Design and SUAS competitions. The Hi-Lift plane focuses on high-lift and payload delivery applications, the Advanced Class plane focuses on designing a mother plane that delivers a water payload and deploys a secondary aircraft to simulate a firefighting mission, and the Autonomous plane focuses on building an unmanned aerial system capable of autonomous flight and navigation.
Michigan Mars Rover (MRover)
MRover is a student-run, multidisciplinary organization whose mission is to design and build a rover for the exploration of extraterrestrial environments.
Michigan Solar Car Team
In it's 30 year history, the Michigan Solar Car Team has 9 National Championships, 6 Top-3 World finishes, and 1 International Championship. The team designs, builds, and races the world's fastest solar vehicles.
Strength Augmenting Robotic Exoskeleton (STARX)
STARX makes practical-powered exoskeletons that increase the effective strength of the user, specifically designed for first responders.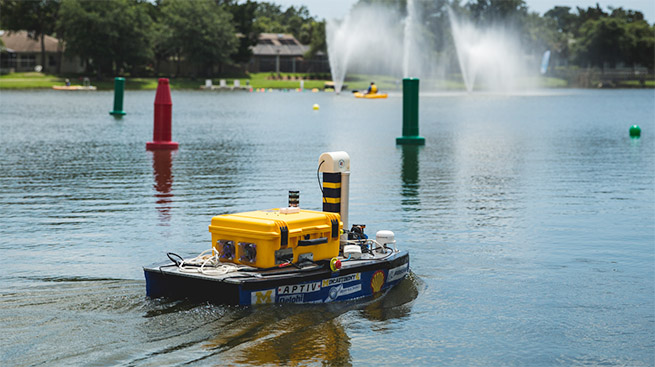 UM::Autonomy
Builds an autonomous boat that must complete a wide range of challenges that are designed to test its autonomous abilities and participates in the RoboNation Roboboat competition.
Michigan Aeronautical Science Assoc. (MASA)
Teaches students about the basics of rocketry while providing hands-on exposure to the design, build, and test phases of engineering.