Keravnos Energy wants to make fast electric vehicle charging economical
The idea behind Keravnos Energy is for there to be an energy transfer between three entities: the building, a large stationary battery, and the car.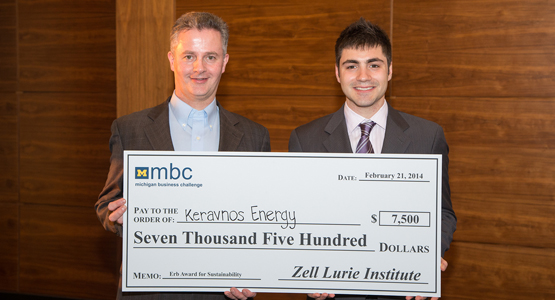 Enlarge
×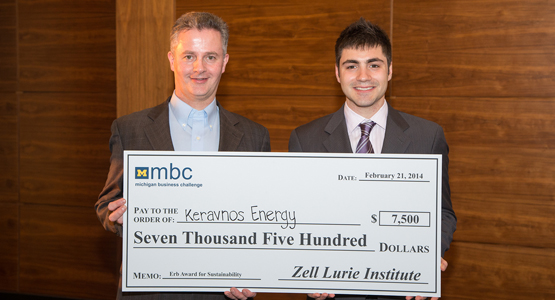 Keravnos Energy, LLC wants to give a jolt to the electric vehicle industry by making quick charging electric vehicle (EV) stations economical. The founders of this startup company, Rupert Tull de Salis (master's student in electrical engineering:systems) and Dimitris Assanis (doctoral student in mechanical engineering), got their own charge by winning the Erb Award for Environmental and Social Sustainability at the 2014 Michigan Business Competition. They competed with Johannes Kristinsson, an MBA student at the Ross School of Business; Kristinsson is now on the company's board of advisors.
Fast-chargings are eight times faster than typical EV stations, but they are too expensive for most companies to adopt. This is because commercial customers are charged a steep tariff that is based on their peak demand. The spike from a single fast-charge will instantly skyrocket an operator's monthly fees.
In a new twist on battery storage, the idea behind Keravnos Energy is for there to be an energy transfer between three entities: the building, a large stationary battery, and the car.
"You can do two things if you bring in a battery," explains Rupert, "store energy when demand is low, and then release energy when demand is high to avoid spikes in energy usage.  You reduce costs both for the host building and for the quick charging station."
If Tull de Salis and Assanis can get enough companies to adopt their technology, it could lead to the availability of many more fast charging stations, which would in turn feed the entire electric vehicle industry.
Rupert, who is CTO of the company, designed the control system for the Keravnos Energy battery and charging technology, which uses trade-secret protected algorithms to allocate energy between the elements of the system. Keravnos' business model is to receive a portion of what they save on electricity after the system is installed, while also collecting payments for EV charging.
Rupert was encouraged to pursue his vision of combining peak shaving (shifting the use of energy away from times of peak load on the electric industry) with electric vehicles, after receiving a U-M Dare to Dream Integration Grant. His interest in energy storage was fueled by his 20-year career in product development at Ford Motor Company, his work as Chief Engineer for a wind turbine company, and his own engineering consultancy.
Rupert is advised by Prof. Dawn Tilbury and Prof. Ian Hiskens, He credits any business savvy he's picked up to the entrepreneurship classes he's taken, taught by Prof. Peter Adriaens and Prof. Mohammed Islam. Rupert met Dimitris in one of these entrepreneurship courses.
Dimitris, CEO of Keravnos Energy, saw the potential immediately, and has helped refine the goals for the company while adapting the technology to make it economically viable. He brings to the company invaluable connections made in the transportation industry through his years as a consultant for Assanis and Associates, Inc. He worked there with his brother, who is now the financial officer for Keravnos, and his father, Prof. Dennis Assanis, who is on the Board of Directors. Prof. Assanis had a distinguished career at Michigan as Director of the Michigan Memorial Phoenix Energy Institute and Founding Director of the US-China Clean Energy Research Center for Clean Vehicles before joining Stony Brook University as Provost and Sr. VP for Academic Affairs.
Dimitris believes the key markets for Keravnos will be in locations where the peak demand charges are high, and there's a high density of electric vehicle owners.
"The sweet spot in terms of timing for our company is the next 5-15 years," said Dimitris. "Our company can help facilitate the transition from electric vehicles being your secondary or niche car to being your primary mode of transportation."