Inspiring a new generation of women engineers in Liberia
The students traveled from the University of Liberia and St. Clements University College as representatives of their own SWE chapter, Liberia SWE (L-SWE).
Enlarge
×
Six women engineering students from Liberia traveled to the U.S. to attend the Society of Women Engineers (SWE) Women in Engineering 2016 conference, under the sponsorship of the Excellence in Higher Education for Liberian Development (EHELD) program and U-M-SWE. They spoke of their passion to improve their country through engineering, as well as the difficulties of being female engineers in their country.
The students, four of whom are pictured above, traveled from the University of Liberia and St. Clements University College as representatives of their own SWE chapter, Liberia SWE (L-SWE).
The women are keenly aware of how underrepresented they are in Liberia's engineering landscape, and are trying to change that.
"Women can contribute to Liberia's development as much as men," says Quinnetta Clement, one visiting student. "There are a lot of people that have the passion and ability, but they don't have the confidence to move. We believe that working as a team will help us. If you're a female at the school of engineering, you have someone to rely on."
Being a female engineering student in Liberia is not an easy road. They often face intimidation by faculty and instructors, are excluded from student organizations, and do not feel safe in the university due to low security standards. One student recalled being accused of cheating in the middle of taking a test because she was answering the questions more quickly than her male classmates. Another said she was asked to stay back and cook lunch while male classmates attended an industry tour.
"Even in high school they tell you that it's a man's field," says Edith. "You hear that you're not going to be a good housewife if you're at school all the time doing 'men's stuff.'"
"Every day is a problem," Quinnetta adds. "If you don't face it from the school, you face it from the teachers."
The six women attended WE16, the world's largest conference and career fair for women in engineering and technology sponsored by SWE, for the chance to gain new perspectives on these challenges, and connect to others in their field. Two students presented papers about their own experiences as women engineers in Liberia and their efforts to try to get more women involved in engineering.
Enlarge
×
"I met a lot of people with different mindsets and from different backgrounds," says Catherine. "What struck me most was that being in America doesn't automatically make anything easy – you've still got to work to reach the place you want to reach. It's not just me who struggles."
SWE has been an ongoing source of support for these and other female Liberian students. For the past two summers, U-M SWE members have traveled to the University of Liberia to organize SUCCESS Camps (Setting Up Collegiates for Careers in Engineering through Social Support). This two-week program seeks to build a network of Liberian women engineers while teaching them vital academic and professional skills.
"We introduced them to the idea that you can have a group of women that are collaborative and supportive as opposed to competitive," says ECE PhD student Liz Dreyer, who helped organize the first two SUCCESS Camps. The Liberia chapter of L-SWE was founded in 2013, after initial efforts under the EHELD Grant put Liberian students in touch with U.S. SWE programs.
Women involved in L-SWE now participate in outreach activities in high schools, host science fairs, and conduct peer advising programs. The organization is now up to 35 members.
The Liberian women chose to study engineering when they realized it could get them directly involved in Liberia's development efforts.
"My purpose in school is to do something challenging, it's what motivates me," Quinnetta says. "I want to develop my country."

"I know if we work as a team, as a society, we can make Liberia better," Littie says. "If they're not going to help us, we've got to help ourselves."
---
About EHELD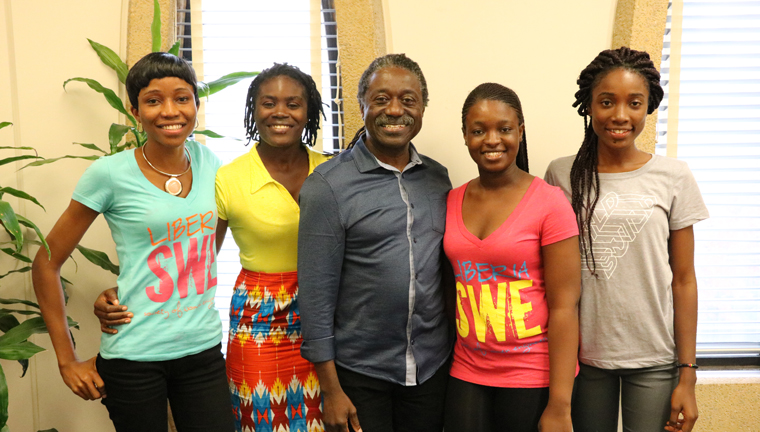 Enlarge
×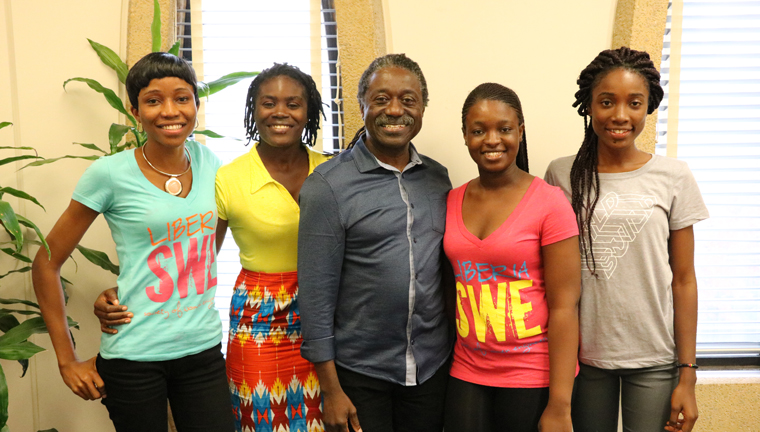 The USAID-funded EHELD program was established in 2011 to help develop a strong academic program in Liberia that could train a generation of engineers to rebuild the country. Prof. Herbert Winful, PI on the project, has been coordinating efforts within the College of Engineering, which included supporting two Liberian graduate students to study at U-M, bringing Liberian faculty to campus, and sending Michigan students and faculty to Liberia to share their knowledge.
Read more about Prof. Winful's involvement with the project.
---
Related Stories: Herb Winful ◦ Outreach and Diversity ◦ Student Groups ◦ Department News