Michigan Electrical and Computer Engineering students are among the best in the world. To create the competitive advantage of the future by hiring these students, companies need to engage students on campus. There are critical resources available around campus that can assist corporate partners with recruiting and engaging ECE students.
Engineering Career Resource Center (ECRC)
Post job opportunities. Participate in the Fall, Winter, and MPowered Career Fairs.
Learn more >
ECE Career Fair
Recruiting made easy! At the ECE Career Fair, you'll meet top undergraduate and graduate students from a wide variety of specializations.
Learn more >
ECE Expeditions
U-M ECE features top students from all over the world. Expeditions are a great way for companies to connect with the leaders of tomorrow's tech, innovation, and design. Students experience a behind-the-scenes VIP tour into various industries through employer site visits and networking events. Become a company partner today!
Learn more >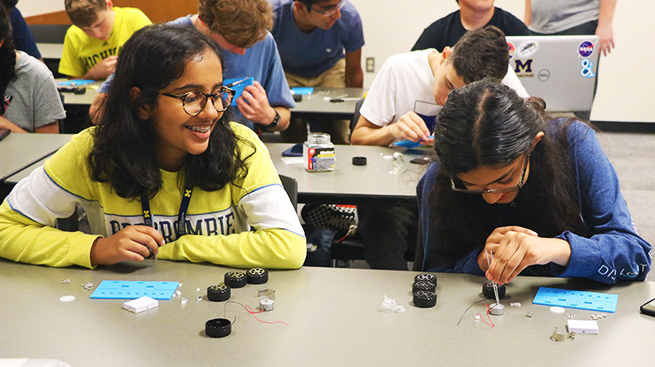 Electrify Summer Tech Camps
At Electrify, high school students from diverse backgrounds learn about ECE and U-M while enjoying an advanced program that challenges them to think creatively and surpass limitations. By supporting the camp, you can help students broaden their horizons while fueling a passion for STEM.
Learn more >
Engineering Graduate Symposium
Each year in late October to early November, the College of Engineering hosts an Engineering Graduate Symposium, a college-wide event focusing on doctoral and master's programs and graduate student research. Come for a glimpse of the research happening in the department.
Learn more >
Support a student through giving
Support students by naming your own endowed fund.
Learn more >