Undergraduate Student Spotlights
Engineering Better Health
Leila Syal (EE) organized an alternative spring break trip with M-HEAL (Michigan Health Engineered for All Lives) to Cusco, Peru. The students operated a mobile clinic with a doctor from a partner organization, reaching as many 600 community members.
Learn more >
VR for Child Therapy and 3D gaming
Duncan Abbot (EE) founded the startup "Gwydion" to broaden the possibilities of VR. Their early projects range from therapy in children's hospitals to helping materials scientists study 3D crystals.
Learn more >
The Art of Baja Racing
Michigan Baja racing won the World Championship this year while setting a tournament-record high score. Max Baer (EE) talks about team chemistry and his project tuning the Continuously Variable Transmission.
Learn more >
Mini Satellites for Max Communication
Havel Liu (CE & ME) talks about his multidisciplinary design project to revolutionize satellite systems, improve communications during natural disasters, and provide a blueprint for receiving future interplanetary voicemails.
Learn more >
The Olympian Engineer
Zach Burns (EE) brought home a silver medal from the Rio De Janeiro Summer Olympics as part of the US Paralympic Rowing Team. Burns' father is also a U-M alum.
Learn more >
Engineers for Education
Sam Tenka (CE) traveled to Ecuador with a team of four multidisciplinary engineers to work with youth who have not had the chance to attend school. As part of the Engineering Honors GO program, the team stayed in the city of Quito for two weeks to aid the Street Children Work project.
Learn more >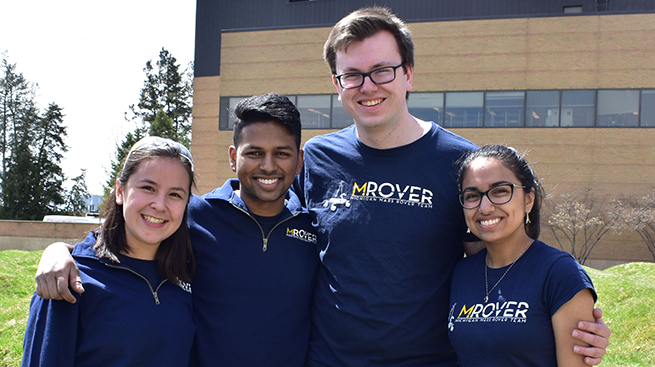 To Boldly Go
Michelle Gehner (EE), Karthik Urs (CE & ME), Matt Price (CE), and Srinidhi Krishnan (CE) talk about building a rover that seeks out new life, and MRover's best ever finish at the University Rover Challenge held at the Mars Desert Research Station.
Learn more >
Fighting Fake News with Machine Learning
Amulya Parmar majors in CE and Business. He created an AI-powered Whatsapp Bot that fights fake news in India. He talks about designing the machine learning algorithm for the Tavtech Fellowship program.
Learn more >
Radio Continues to Connect the World
Reid DesErmia (EE) and Kit Ng (ECE) are member's of U-M's Amateur Radio Club. DesErmia talks about how his service in the U.S. Navy got him interested in radio, and Ng talks about the applications of radio to modern engineering problems.
Learn more >
Iron Man suits for 1st responders
Owen Winship served as the Electrical and Controls lead of the Michigan team, Strength Augmenting Robotic Exoskeletons (STARX). The team took 1st place in this year's Applied Collegiate Exoskeleton competition.
Learn more >
The Future is Electric
EE students Ethan Novilla and Jacob Kromm and CE student Michael Reber talk about what it's like to be a part of Michigan Electric Racing and how they transitioned from a hybrid vehicle to a fully electric vehicle.
Learn more >
Hitting the High Notes
EE and Vocal Performance major, Alexandria Strother, won the 2015 Miss Washtenaw County pageant. She has become a poplar advocate for STEM and she continues to pursue her passions in performance and power and energy.
Learn more >
Exploring the world of Terahertz
Samir Nooshabadi (EE) is interested in solving fundamental problems in teraherz design so that the technology can be used in a wide variety of applications. He talks about his research designing tiny transmitters which can operate based on a terahertz source.
Learn more >