EECS 425: Integrated Microsystems Laboratory
Instructor: Professor Euisik Yoon
Coverage
This is a project-oriented laboratory course in integrated microsystem design, fabrication, and testing. As system integration levels have increased, more and more different devices are being integrated on a common substrate, creating interesting tradeoffs in system partitioning and technology. To understand these tradeoffs, this course addresses the development of a complete multi-chip microsystem containing sensors, signal processing, and an output interface. This allows us to explore not only a basic MOS device/circuit process, but also to explore processes such as wafer bonding and micromachining that are used for transducers. Microsystems will increasingly be portable devices, emphasizing very low power and making capacitive transducers particularly attractive and important.
The course offers the opportunity to develop a complete integrated microsystem, from inception to final test. Class meetings will be informal and will consist of two 80-minute lecture sessions per week plus one design/fabrication/test session. Students will work in interdisciplinary design teams of typically four people. Each team will design, fabricate, and test two multi-project chips: one using a bulk silicon-on-glass process to realize a number of MEMS transducers, and the other based on a silicon-gate LOCOS E/D NMOS process for signal processing circuitry and additional sensor interface. In order to accomplish this, the course is strongly supported by staff working in Lurie Nanofabrication Facility (LNF) and under the Wireless Integrated MicroSystems (WIMS).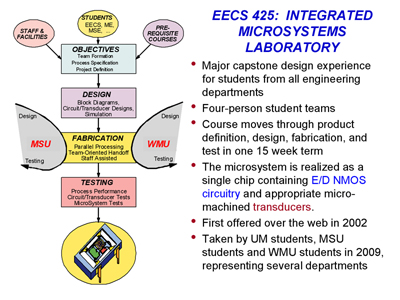 Lab
Student will form a group (three to four students per group) to design both MEMS transducers and E/D NMOS circuits using Coventorware and Cadence CAD tools. All the device designs are simulated before the final layout for fabrication. Once the design is completed, the students will work with an LNF staff to fabricate their own devices. Students will sign up the lab sessions (two students at each session) posted by LNF staff and participate in device fabrication. The bulk of fabrication will be performed by the technical staff of the LNF, and lab sessions will be coordinated for students to work in the lab and carry out some of the process steps on some of the wafers. Student may have an opportunity for basic training and experience on photolithography, etching and metal evaporation.
After the devices are fabricated, students will test their own devices. Each group (four students per group) sign up for the test probe station and characterize their devices. GSI as well as WIMS staff will give basic training and facilitate all the required instruments that students may need for testing their devices.
This course is a project-based class. Each project group (four students) will meet with an instructor to select their topic and review designs. Interdisciplinary team is encouraged and good team work is critical for the success of the project. We will have a formal presentation on the last day of the class and WIMS industry members will be invited to the presentation. The best projects will get a prize of total $2,500, sponsored by industry members.
Textbook(s)
Kovacs, Gregory T. A. Micromachined Transducers Sourcebook. Boston: McGraw-Hill, 1998.
This book is a recommended (not required) textbook, giving the basis for various microtransducers design and analysis. This text will be supplemented by notes covering sensor technology and fabrication as well as additional information on relevant microstructures.
Syllabus
Introduction to the course
Review of the MEMS SOG (Silicon-on-Glass) Process
Review of Example of MEMS Devices and Past Projects
Project Selection Meeting
MEMS CAD Tutorial
Review of ED-NMOS Fab Process
Circuit Cadence Tutorial
Design Review of MEMS and Circuit Devices
Lab Safety Class for LNF Access
Midterm Report and Presentation
Lab Sessions at LNF
Testing of MEMS Devices
Testing of ED-NMOS Devices
Final Presentation and Award
Final Report