Spotlight on Innovation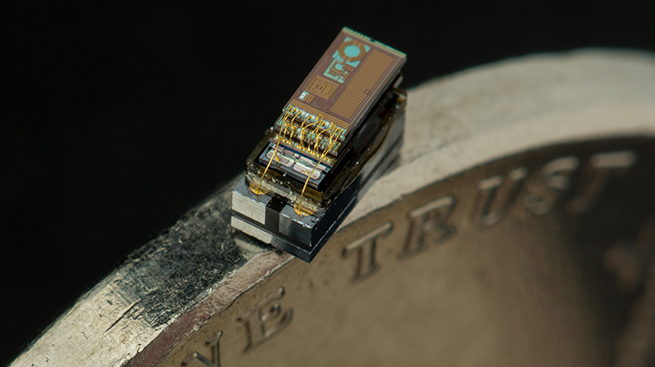 The World's Smallest Computer
The Michigan Micro Mote is a fully autonomous computing system that acts as a smart sensing system.
Learn more >
Amazing Walking Robots
Prof. Jessy Grizzle has developed extremely robust control techniques for bipedal walking robots.
Learn more >
The Father of Data Science
Claude Shannon's work is responsible for digital communication, data processing, and even the Internet.
Learn more >
Nader Najafi: Daring Health Devices
Nader's company has developed the first heart-monitoring device to be anchored in the left ventricle.
Learn more >
Michigan's First Materials Center
Center for Photonic and Multiscale Nanomaterials focuses on controlling light interactions with matter.
Learn more >
Googling the Physical World
Prof. David Wentzloff wants to connect trillions of tiny sensors embedded in everything you can think of.
Learn more >
Larry Page: Building the Internet
Co-Founder of Google and CEO of Alphabet, Larry invent tools that shaped the Internet as we know it.
Learn more >
Emmett Leith: Modern Holography
Leith made holography a reality, stunning the world with his holographic train in 1964.
Learn more >
Lighting Up the World
Graduating before EE existed as a department, Charles Brush had a big influence on household lighting.
Learn more >
Thomas Knoll: Photoshop is born
How a procrastinating Michigan graduate student and his brother changed our view of the world.
Learn more >
Bill Joy: Edison of the Internet
Joy co-founded Sun Microsystems, and created UNIX and Java.
Learn more >
Khalil Najafi: Emerging Technologies
Khalil is a leader in MEMS devices, including systems to replace GPS and detect chemical weapons.
Learn more >
The Michigan Probe: Brain Research
Extremely accurate probes us a variety of technologies to make mapping the brain with light possible.
Learn more >
Lynn Conway: Life, Engineered
Lynn has been called the hidden hand in the movement that enabled the very fabric of Silicon Valley.
Learn more >
First in Quantum Dots
Prof. Battacharya was instrumental in early understanding of the tiny semiconductor particles called quantum dots.
Learn more >
Claude Gauthier: Ethernet Revolution
Claude built his career on connections. Now, he's working to connect our world through next-gen ethernet.
Learn more >
Fighting Cyber Crime with Data
Prof. Mingyan Liu's Quadmetrics (now FICO) keeps companies diligent when it comes to cybersecurity.
Learn more >
Eric Aupperle: How the Net was Won
Eric was the director and president of a research network that had a hand in developing the Internet.
Learn more >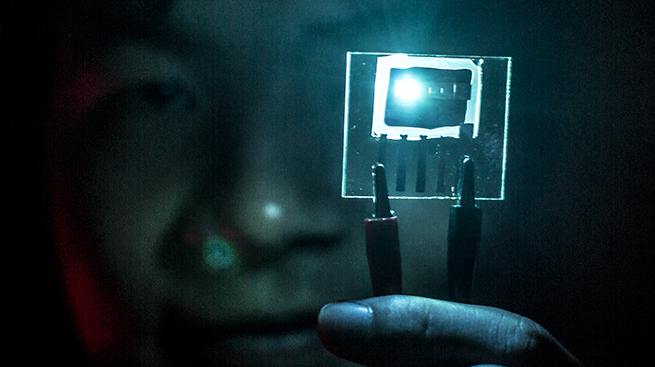 Breakthroughs in Modern Lighting
Stephen Forrest does revolutionary work on photovoltaic cells, organic light emitting diodes, and lasers.
Learn more >
Dawson Yee: Xbox Kinect
Dawson is an architect for the fastest-selling product in consumer electronics history.
Learn more >
The Early history of Microprocessing
Lee Boysel and his team created the first single-chip CPU microprocessor.
Learn more >
Crossbar: Reimaging Memory
Prof. Wei Lu's company developed a new type of memory that's smaller and faster than anything on the market.
Learn more >
Meera Sampath: Art of Innovation
Meera helped kickstart Xerox's Indian Innovation Hub and was a leader of their work.
Learn more >
Mitch Rohde: Mad Scientist
Founder of Quantum Signal, Mitch works on projects from self-driving cars to facial recognition for skincare.
Learn more >
Tony Fadell: The IPod and Beyond
A key mastermind behind the first iPod, Tony went on to found Nest and take a seat at Google.
Learn more >
Angelique Johnson: Cheaper Hearing
Angelique makes one of the most expensive parts of cochlear implants more affordable with microfabrication.
Learn more >
Eran Bashan: Health in the Home
Eran, founder of Hygieia, developed a device to help people with diabetes keep track of insulin use at home.
Learn more >